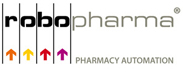 Havenweg 14, 5145 NJ Waalwijk
info@robopharma.com
| +31(0)416 65 11 85
Prescription delivery
The RoboPharma prescription dispensers allows your patients to collected their completed prescriptions from a secure self service bank, 24 hours a day, 7 days a week. The prescription dispensers is a standalone system with a very high stock capacity of 100 prescription bags, which will improve the service options available to your patients.
Key benefits
- Extended continuous service to your customers, with no extra input from your staff.
- Reduced pressure at the counter, more time for attention to your clients.
- Opportunity to increase your chemists'capacity.
- Compatible with multiple bag sizes.
Easy operation
1. Enter your patient's details, their mobile telephone number and their date of birth into the special prescription delivery software.
2. Scan the barcodes of the completed scripts and link the scripts to the patients.
3. Scan the barcode of the script and place it in an empty location in the prescription dispenser, indicated by a LED light.
4. The patient will automatically receive a text message when the prescription is filled.
5. The patient enters his or her pin code and date of birth to retrieve the prescription bag.
The prescription can only be removed when the correct combination of date of birth and pin code has been entered. You can enter several prescriptions per patient, which can be successfully retrieved with just one pin code. Each pin code will remain valid until the complete prescription is collected.
Configuration and specifications
The prescription dispenser contains:
- Dispenser with 3 vertical drawers
- 100 locations with LED indication, depending on your wishes.
- Distribution panel
- Built-in flat screen for instructions, input from patients and advertising
- ScriptDispenser software
- SMS (text messaging) module, excluding SIM card
- Touchscreen for entering patient informationScanner
Software
The RoboPharma prescription dispenser is a standalone module. Specifically developed software (with remote access) is included.
Tags: prescription delivery